ClubHack2012
ClubHack when started in 2007, dreamt that people in India will wake up and start thinking information security seriously. We even decided our motto as "Making Security a Common Sense". After 5 long years, today we witness a lot of action around the country in this field, media as well as working professionals are actually looking towards security seriously.
Waking up to an extent that today we see 5-6 similar events in India on the same line. Hence we have now decided to confer the task of rest of the awakening to them and start a new journey.
ClubHack2012 onwards, we will concentrate our energies in empowering innovation & leadership development. Having loved our domain so much, we'd continue to do this in the domain of information security only.
And that coins our new motto line
"Empowering Innovation & Leadership in Information Security"
Keynote by Alok Vijayant, NTRO, PMO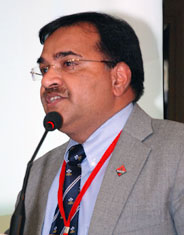 Director of The National Technical Research Organization (NTRO) – India's premier apex scientific organization under the National Security Advisor in the Prime Minister's Office. It was set up in 2004 and also includes the National Institute of Cryptology Research and Development (NICRD), which is first of its kind in Asia.
Come join us in ClubHack2012 to feel the pulse…