FacebookPasswordDecryptor is the FREE software to instantly recover stored Facebook account passwords stored by popular web browsers and messengers. Most of the applications store the Login passwords to prevent hassle of entering the password everytime. Often these applications use their own proprietary encryption mechanism to store the login passwords including Facebook account passwords. FacebookPasswordDecryptor automatically crawls through each of these applications and instantly recovers the encrypted Facebook account password.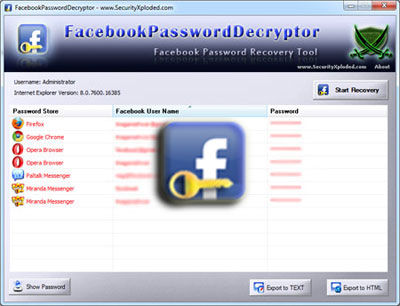 It presents both GUI interface as well as command line version, the later is more helpful for Penetration testers. Apart from normal users who can use it to recover their lost password, it can come in handy for Forensic Folks.
Currently it supports Faceboook password recovery from following applications
Internet Explorer
Firefox
Google Chrome
Opera Browser
Apple Safari
Flock Browser
Paltalk Messenger
Miranda Messenger
Though it is primarily designed to recover one's lost password it can be very useful in many ways. For example in cases where you have to hand over your laptop to some one else, you can run FacebookPasswordDecryptor and remove any password from all the stored applications.
It is also possbile for this tool to be misused by spywares and dark guys to get hold of your secret Facebook passwords after compromising your system. Facebook being most popular, it is one of the most targeted account by spywares/trojans. To protect against such threats it is adivsed to set up master password wherever it is possible. For example in Firefox you can protect your saved passwords with master password. As not all applications have such kind of protection mechanism, it is not good idea to store the passwords in every application. Also in the event of spyware infection or insider attack you are advised to immediately change your important passwords before anything else.
It can happen to anybody either you are normal user or security expert. Like what happened to our Rohit but good thing is that he was able to discover the attack while it was happening and changed all his 83 passwords !
FacebookPasswordDecryptor comes with Portable edition as well as with integrated Installer. Portable version allows you to run it directly from USB or other portable devices without installing it on the system. It works on wide range of platforms starting from Windows XP to latest operating system Windows 7.
For more details and to download this free tool, visit FacebookPasswordDecryptor !
Posted on February 25, 2011 - 4:03 pm
By SecurityXploded
Posted in